Are you sticking to your 'do more exercise' New Year's Resolution?!  Three weeks into 2015 and perhaps your good intentions are starting to dwindle. After all, it's freezing out there, heading straight home after work is far more tempting than exercising.
If you're finding it difficult to motivate yourself to stick to your 'get fit' or 'do more exercise' resolution's here are my 5 top tips (cheap & easy) to get you started. 
1.  Arrange an active date with your partner or friend
Catch up with mates after work and go for a 'jog and a gossip' or a pre-dinner exercise class together. It is of course much easier to motivate yourself if your partner or friend is there to spur you along. Plus if you've pre-arranged to meet up, then it's much harder to cancel your mate… you can't piss off a running machine!
The research backs this up too. A recent University College London (UCL) study found that people are more likely to make a positive health behaviour change if their partner did too. The researched looked at over 3,700 couples. 66% of individuals changed their behaviour successfully and increased their physical activity when their partner did as well. This compares to 25% who increased their activity whilst their partner remained unhealthy. So text your boyfriend/girlfriend, husband/wife, best-mate right now and get a date in the diary this week!
2.  Choose an activity you enjoy
If you hate running or can't bear going to the gym, don't do it! Chances are if you start a new exercise class or activity that you don't enjoy you're not going to stick to it. There are so many fantastic fitness choices out there right now you'll be sure to find something you like……or mix it up and try something different each week.
3.  Run for charity… challenge yourself and help change lives
You don't have to run a marathon. Pick something that's a challenge for you. If you've never run before then training for and running a 10k is a huge achievement.  Plus if you do it for charity you'll have the double achievement of raising funds and making a difference. Most charities will help you with your fundraising and have tips for training too.
African children's charity Lively Minds has places for the Vitality Run Hackney Half Marathon (10th May) or Run to the Beat (10k set to music, 13th Sept). So do something amazing… sign up for a run and support a small charity like Lively Minds. You'll be making a huge difference to thousands of children as well as yourself.
Find out more www.livelyminds.org/run
4.  Be nice to yourself
If you do miss a week or two of exercise don't punish yourself. We all have weeks where we feel less energetic or might be too busy. Try not to focus on the negative if you're not achieving your goals as quickly as you would like. Think of what you have achieved… perhaps you can hold a plank for 10 seconds longer or can run that extra 1k further than you could 2 or 3 weeks ago… See, you're amazing!
5.  Organise an exercise class in your office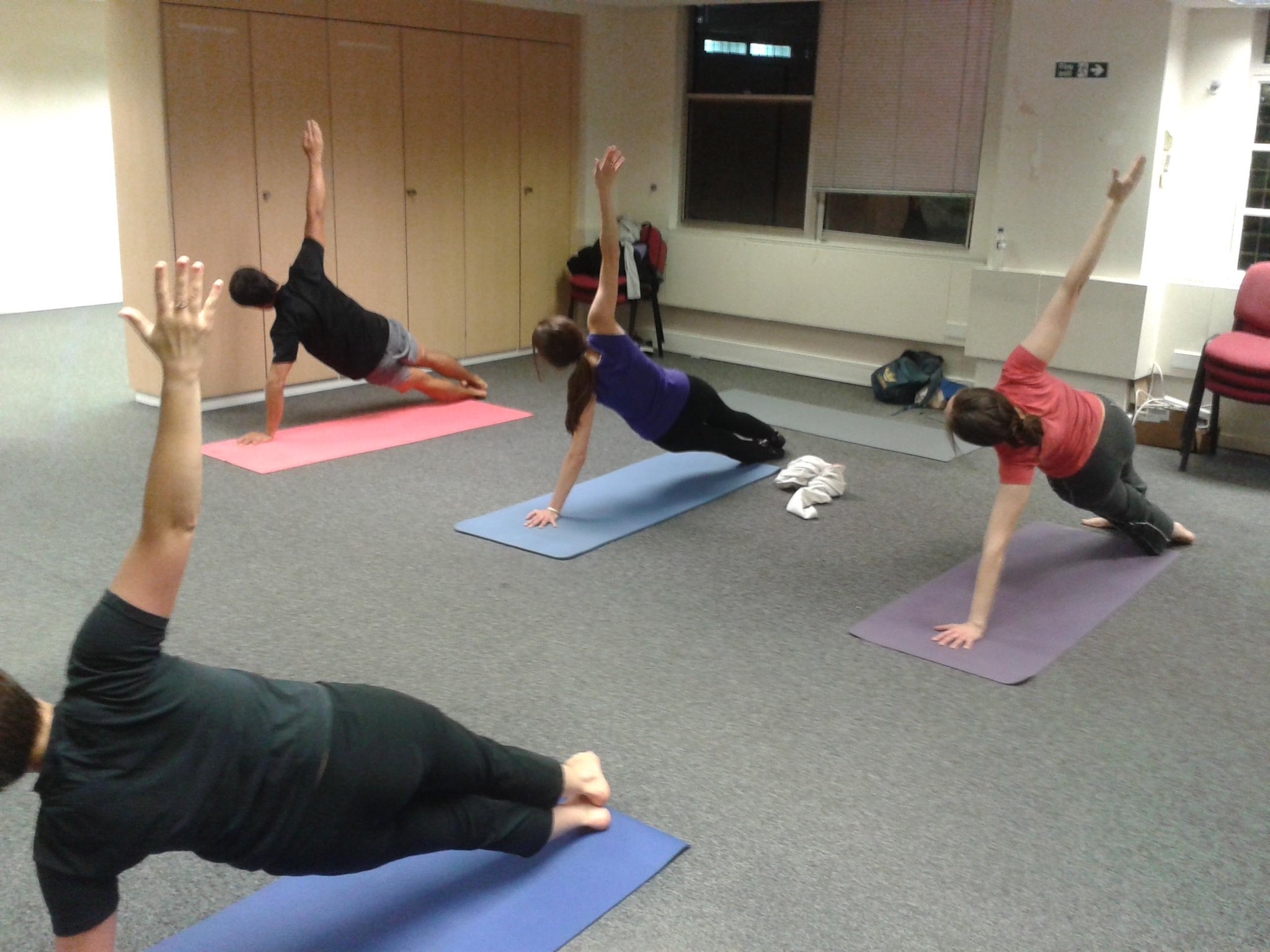 Here's one I can help with! Why not organise a Pilates or other fitness class in your office. It's easy to arrange you just need a space or meeting room with the tables and chairs pushed to the side, some willing colleagues and just throw down your mats and away you go! Classes can be held before/after work or in a lunch break.
With classes from just £4 per person it's affordable, we come to you and classes are held during the working day – so no excuses!
Find out more about booking an exercise class at your office.
Contact julia@exerciseinthecity.com to book your first session today
References
– JAMA Internal Medicine, researchers from University College London (UCL) http://archinte.jamanetwork.com/article.aspx?articleid=2091401
– http://www.cancerresearchuk.org/about-us/cancer-news/press-release/2015-01-19-couples-more-likely-to-get-healthy-together